Former Pupil Biographies
James Berwick Forgan (1852-1924)

Born April 11 1852 in St. Andrews Scotland; son of Robert (the golf club manufacturer) and Elizabeth (Berwick) Forgan, he was destined to become one of the most influential figures in American banking and finance in the early years of the 20th century; ed Madras College, St. Andrews, and Forres Academy, Forres, Scotland;
married Halifax, Nova Scotia 1875 Mary Ellen Murray;
children: Robert D., Jessie Wilhelmina, Donald M., James B., Jr.

First engagement was with the Royal Bank of Scotland for about 3 years; later with Bank of British, North America, with assignments to Montreal, NY and Halifax; later paying teller, afterward inspector of agencies, Bank of Nova Scotia; established agency in Minneapolis, of which he was manager for 3 years; about 1888 became cashier and manager of the Northwestern National Bank;
He came to First National Bank, Chicago as Vice President 1892 and succeeded Lyman J. Gage as President in 1900, making the First National Bank the most powerful bank in the west; also president First Trust & Savings Bank, National Safe Deposit Company; chairman Board directors Security Bank of Chicago; director Chicago Title and Trust Co., Equitable Life Assurance Soc of the U.S. Fidelity & Deposit Co. of MD, Guarantee Co. of North America, Met. West Side Elevated Ry. of Co., Am. Radiator Co; member western board of control the Audit Co. of NY. Clubs: Chicago, Union League, Union Exmoor, Bankers', Commercial, Chicago Golf, Saddle and Cycle, Glen View. Residence in 1911: 1415 Dearborn Av. (Residence in 1905: 541 Dearborn Av.) Office: First Nat. Bank.11 So caught up in his work was he that he once admitted: "My life has been absorbed in, and my energy concentrated on the growth and development of the banks which have so commanded my services that my life story has been practically inseparable from theirs."
He was appointed to the Finance Committee of 1912 of the Illinois Saint Andrew Society. In 1917, President James B. Forgan decided that ladies should be invited to attend the Anniversary Dinners. A strict Presbyterian, he urged the men to reduce their drinking and story-telling, so that the ladies would feel comfortable. An orchestra and dancing was added to the program.

The 'Old Boys Chronicle' in the Madras College Magazine for December 1904 reports:
"In other spheres of life we have ... Mr James B Forgan and Mr David R Forgan, who hold high positions in banking circles in the United States of America; ..."
The 'Old Boys Chronicle' in the Madras College Magazine for December 1905 reports:
"Former pupils of the Madras College flourish all the world over, and the latest pre-eminent in their ranks has occurred on American ground. Mr. James B. Forgan, who has obtained to one of the most desirable posts in the United States banking circles, has been offered the Presidency of the New York Mutual Life Assurance Company, an appointment which carries with it, we understand, a princely income. Mr. Forgan has, however, declined the appointment. He holds the office of President of the First National Bank, Chicago, and his duties and associations in that town have had for him preferable claims. He is regarded with the utmost esteem in the vast community in which he has settled. His younger brother, Mr. David R. Forgan, also a former Madras boy, is Vice President of the same Bank. They are brothers of our much-esteemed townsman, Mr. Thomas B. Forgan."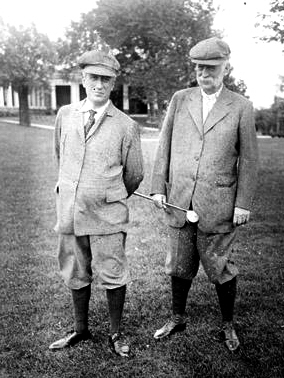 David and James Forgan 1915