Former Pupil Biographies
David Leith (1847 - 1919)
| | |
| --- | --- |
| David Leith was born in the City of Dundee on March 15, 1847. All seven children in his family became orphans when both parents, Thomas Leith and Isabella Kenney, died in 1848 or 1849. David and an older sister went to live with their father's sister. Nothing more is known of the whereabouts or fate of the remaining five brothers and sisters, but it was not uncommon at that time for children as young as thirteen to be put to work in the mills and factories of Dundee. When he was of school age, David's aunt sent him to the local Parish school which he attended for five years. He subsequently attended Fisher's school and then Madras College in St Andrews. At some point during his stay in St. Andrews, his aunt cut off his and his sister's funding which made it difficult for him and for his sister. He was required to do extra chores to help cover the cost of his room and board. He and his sister brought suit against their aunt to restore funding. | Circa 1870 |
After returning to Dundee, aged around 18, he was converted in the Methodist Church in the late 1860's and shortly thereafter began his ministry by holding services in the market place in Dundee and preaching on street corners. He lived for a short time in Glasgow and upon returning to Dundee he married Elizabeth Buchan, a woman seven years his senior, on 3 June 1868. He was not yet twenty-one years of age. He worked as a "Drummer" for a hardware manufacturer for a period of time. In his quest to become a minister, David spent a year "on trial" and after preaching trial sermons and passing the necessary exams he was licensed as a preacher in March 1869, by the Quarterly Conference of St. John's Methodist Church of Glasgow, Scotland.

In 1872 David saw an advertisement in the London Methodist Recorder indicating that the Southern Methodist were looking for Ministers in the western states and the territories in the United States of America. He subsequently set sail for the United States in October 1873 leaving his wife and 3 children in Scotland. Upon arrival in the United States he was admitted on trial in the Memphis Conference in November of that year. After spending two and one half years in the United States, David was unable to raise the cost of passage for his family and was forced by circumstances to return to Scotland in April 1876.

Upon his arrival back in Scotland, David Leith became the Minister of the Congregational Chapel, Wick, Scotland on 17 June 1876 at a salary of one hundred and sixty pounds where he remained for five years. By 1881 he was living in Neilston, Renfrew. He then returned to the United States this time with his family. They departed Glasgow, Scotland on Thursday, 15 September 1881 on board the steamship Anchoria of the Anchor Line bound for New York. In route the Anchoria was involved in a collision with another vessel. Although delayed, the Anchoria docked in New York on Wednesday, 28 September 1881. The family proceeded from New York to Memphis, Tennessee where David was readmitted into the Memphis Conference of Methodist Churches. He was assigned to serve the First Church in Jackson, Mississippi for a period of two years; Hernando Street (Second Church) Memphis, two years and Trenton Station four years. While assigned to Trenton Station, David Leith applied for citizenship. Two years after applying, on 11 October 1886, he became a naturalized citizen of the United States of America by decree issued by the Chancery Court, Madison County, Jackson, Tennessee. David was transferred to the North Alabama Conference in 1889 and served as Pastor of St. John's Church, South Birmingham for two years; Attalla for a period of three years; Courtland, one year; Guntersville, one year and Florence, two years. In November 1898 he was transferred back to the Memphis Conference and served Henderson Station, one year; Brownsville Circuit, two years; Milan Station, one year; Somerville Station, four years; Collierville station, two years; Paris District, three years.

While David was serving in the Paris District, on 16 January 1910 Elizabeth Buchan Leith passed away. She was 70 years of age. Elizabeth was buried at the Maplewood Cemetery, Paris, Tennessee. Sometime between 1910 and 1912 David married Lillian Sarah Smith who was born 10 February 1876. David was twenty-eight years older than Lillian who would have been about 33 years old at the time. Shortly after David's marriage to Lillian, she gave birth in Memphis, Tennessee to a boy, William Wallace Leith, 20 October 1912. Following his service in Paris, David Leith served the Buntyn and Springdale church, two years (1911-1913); Pepper Memorial, two years; Newbern Station, two years and Dwyer Station, one year (1917).

David closed out his active ministry in 1917 and the Memphis Conference of Methodist Churches granted him the Superannuated Relation. David Leith died in his home on Graham Avenue in Memphis on 26 December 1919 at age 72. He is buried along side his first wife, Elizabeth, in Maplewood Cemetery, Paris, Tennessee. Lillian Smith Leith died on 24 March 1932 at her home at 3309 Bowen Street in Memphis, Tennessee at the age of 56. She is buried at Forest Hill Cemetery (March 25, 1932).

Note:

After David Leith returned to Scotland in 1876, following a three year stint with the Methodist Conference in Tennessee, he wrote frequently and extensively for the Western Methodist newspaper, a publication in the United States at that time. His byline was "Letter from Scotland" and each article ended with David Leith, Scotia. Wick, Scotland, followed by the date. In these articles, he wrote of the politics of theology, the failure of the Presbytery to censure the Rev. David McCrae (march 19, 1877). Rev. David McCrae expressed an opinion that the Confession of Faith was no longer useful and should be laid on the shelf as a historical document. Rev. Leith spoke with pleasure of the end of the yellow fever epidemic that hit Memphis Tennessee; he wrote of the Russian Czar's proclamation of war against Turkey; a visit to Scotland by Mr. Philip Phillips, the American composer and hymnologist. He wrote of the failings of the English justice system; the declaration of war by Great Britain against Afghanistan; the mine catastrophe at a coal-pit near Glasgow in October, 1877 resulting in the loss of two hundred and thirteen lives. In one such article, he comments on the presence of Ex-President Grant on a visit to Scotland. David relates his remonstrations with another gentleman "as to the impropriety of receiving General Grant as if he were the Emperor of the United States, instead of being (as I believe he now is) merely a private citizen. The reply was, "The Americans themselves, notwithstanding their boast about 'all men being born free and equal,' make as big a fuss over a Prince, or a Lord, a Grand Duke, or a Duke, when such appears amongst them. From which (said this gentleman) I draw this inference: they don't believe their own doctrine"

He wrote of local option laws as it applies to drink and encouraged Parliament to act so as to put forward the issue of temperance . He wrote of fearing war with Russia to be inevitable. He railed against the Grand Orient of France (Free and Accepted Masons) and their act to obliterate from its ritual all reference to the being of God and the immortality of the soul. He felt that by this action "the French ruthlessly lay hands on and attempt to destroy fundamental principles of the Brotherhood." When commenting on the Government (May 20, 1878) as it relates to the cost of war, he stated: "And this is a Conservative Government! May Heaven send us light as to what is being conserved." And he talks of the weather and the cost of strawberries; at three shillings (seventy-five cents) a box, each box containing fifteen to twenty berries. He points out that they have been raised in hot houses "which accounts for their high price."

Rev. David Leith and Madras College

The information on Madras College was taken from a handwritten sermon which David Leith gave to the assembled congregation of the Methodist Church, Trenton, Tennessee, USA on 13 March 1887 on the occasion of his fortieth birthday (15 March 1887), which he would celebrate a few days later. The sermon was entitled "My Fortieth Birthday: A Retrospect". Here is the relevant extract: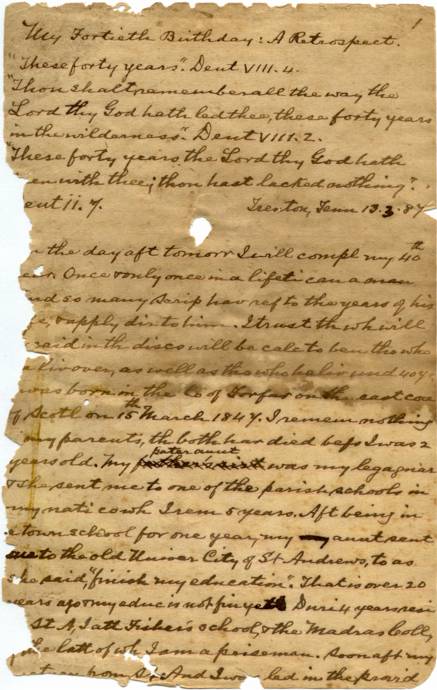 Eulogy

"David Leith was a loyal Methodist preacher, accepting his appointments without murmuring, ever striving to do "whatsoever his hands found to do", and now that his work has ended, and he has been "dismissed and regarded," let us, his brothers who still remain, emulate his virtues that, like hime, we may hear the welcome plaudit, "Well done, good and faithful servants, enter into the joys of thy world." Farewell, friend and brother, just for a little while."

Geo. H. Martin,
Memphis Conference of Methodist Churches,
January 1920

Many thanks to Everette Carr, Allentown, Pennsylvania, USA for permission to use the above biographical details and for supplying the photographs of David Leith and of his handwritten sermon (Everette Carr's late wife Nancy Leith Carr was Reverend David Leith's granddaughter). Thanks also to Mrs. Betsy Lewis, David Leith's surviving granddaughter.
Link: The Leith Family WebSite